Jandal Precision offers over 12,000 products from over 200 manufacturers. We are located in Winters, Texas.
We are major supporters of our 2nd Amendment rights. We strongly support "right to carry" laws in Texas, and all other states. We are also strong supporters of the brave men and women of our U.S. Military Forces, putting it on the line everyday, for the freedoms so many of us take for granted!
Dale Price is President of Jandal Precision, Inc. A retired airline pilot, rancher, gunsmith, firearms instructor, and long-distance shooter/competitor, Dale is a Life Member of the NRA, Texas State Rifle Association, the NRA Whittington Center and Rocky Mountain Elk Foundation. Dale is also a Mechanical Engineer from Texas A&M ('80 -Gig 'Em Ags!).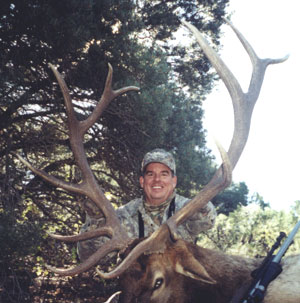 Dale Price with Rocky Mountain Bull Elk- New Mexico
Jandal Precision, Inc. is a Texas Corporation registered with the Texas Secretary of State.
JandalPrecision.com is SSL secured through GoDaddy.com.
JandalPrecision.com is a Verified Merchant with Authorize.Net
Jandal Precision, Inc.is a Federal Firearms Licensee (FFL), licensed through
the United States Bureau of Alcohol, Firearms & Tobacco.
Our customers share our enthusiasm for outdoor sports and personal
security. We serve both large and small buyers, from individuals
to large corporate and government institutions. For more information,
just click here to go to the "Contact Us" page.